Review overview
summary
8.9Aenean vitae odio nibh. Mauris nunc in turpis laoreet laoreet eu sit amet urna.
Let me tell you right away: I'm in love in Boho (short for "bohemian") style. Eclectic, saturated, multilayered, inspiring, magic, amusing, and free… Boho style became popular more than half of a century back, and is again at the peak of fashion and winning the hearts of new admirers. Clothes with ethnic shades, sandals with buckles, ribbons and scarvess in the hair, wide-brimmed hats, fedoras, unique rings and… freedom of self-expression – all of these elements that were taken from the best trends of hippy, gypsy are what leave me in awe.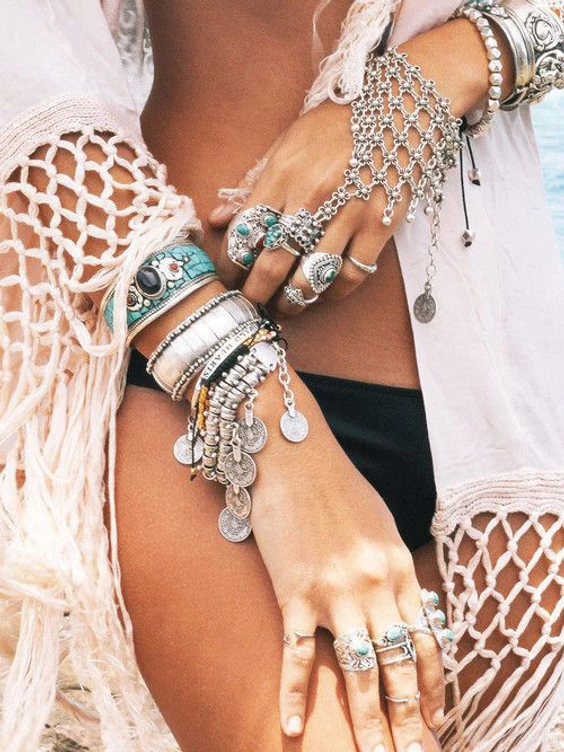 Maybe the entire Boho image isn't appropriate for every occasion and not for every body type, but it's always possible to mellow even the strictest look with one or two Boho-style accessories, making it possible to create a special mood and to make an outfit unique. Today, fashion designers hold the opinion that no matter how cyclic the fashion and trends are, it's not necessary to duplicate the trends thoughtlessly. I won't disagree and Boho style can actually be characterized in one word — individuality! One can safely introduce your own vision of a trend, and it can become inimitable. Bohemian style appeared in the 50's and had some similarities to the hippy style of the 60's – that is, layered «gypsy» skirts, modest blue-collar work shirts, and ripped jeans.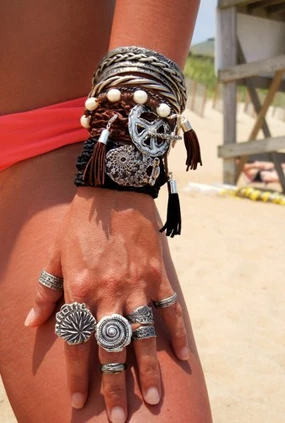 However, the ideology of Boho differed from hippy ideas. Unlike hippies, who preached love and equality, the Bohemians emphasized self-expression. For hippies, diversity and the decorative effect of an outfit were a naive expression of the pleasure of life. After World War 2 as a literary and artistic movement, the bBohemians were in search of new harmony, new lines, forms, details, and images. Style for the hippies was democratic, while Boho style, then and now, reflects the elite. Certainly, we should not always exactly follow one style, but varying even one small detail can make striking changes to one of today's conventional looks. How can one diverge from a traditional outfit and give it a spark of Bohemian style? Correct, with accessories and jewelry.
The choices here are endless: large earrings with bright or natural colored stones, bracelets that incorporate genuine fabrics and leather, large necklaces and pendants with feathers, bright fabric belts, bags with embellishments, fringes and buckles, as well as bangles that are usually worn on both wrists. Also notice that the Boho style can project -very different personas: funny, fragile, brave, naive, and refined.
The variety of forms, details, and moods washes away rigid distinctions of style, generating infinite disputes regarding what "real" Boho style is. However, this variety actually results from the philosophy of Boho: people are different, and everyone expresses freedom, feminism (or masculism), and self-expression in his or her own way. Here are the main ingredients of a "universal recipe" for Boho style: take elements of Boho and hippy styles, add a few gypsy or vintage accents, sprinkle in lots and lots of craziness, brightness, mischief (to taste), add plenty of "amateur" enthusiasm, and… oo-la-la! The Boho-glamour outfit is ready!
And the best surprise is that the look can be appropriate both for holidays and everyday life. To achieve the greatest effect of originality, exclusive jewelry pieces by one's favorite artisans are essential. All of these elements contribute to a fashion "work of art": intricate patterns, unexpected combinations of colors, the radiance of jewels and the exoticness of minerals, the charm of textiles, laces, and wood. Choose them to communicate the enigmatic side of your personality, to show the world what might not be obvious about who you are! Similarly for bags: uniqueness, rarity, and the maker's authentic work — all need to be present. Fedoras and straw hats are also very suitable for this style. In other words, Boho is not so much a defined style, but more a demonstration of your self-expressive attitude.
Create a Boho look from different things, that you choose yourself, showing your amateur talents. But the most important choice is to release yourself from vanity and daily grayness, because Boho is a style for courageous people with creative thinking. Let's surprise the world with unusual appearances, having found something for ourselves in the motley variety of Boho, a style (and attitude) in which we will feel comfortable and content.
For example, in Boho-glamour style jewelry pieces are not simply beautiful little things.
Lastly, let's not forget that this style is considered refined, even extravagant, and creates an artistic impression from the practical harmony of the whole outfit.
---
Want the latest on style and culture?
Sign up for our newsletter.
By signing up, I agree to Gorozhanka Russian American Women's Magazine' Terms of Use (including the dispute resolution procedures); my information will be used as described in the Privacy Notice.
---