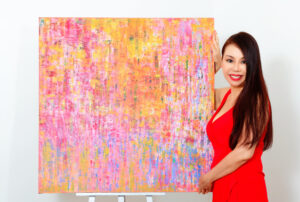 It was my great pleasure and fortune on a business trip to Singapore to meet the inspirational artist, Petra Leong.  Her passion to paint our world a more colorful and vibrant place led me to help market her beautiful paintings in California, USA.  I have been personally dazzled by her artistic talent!
— Petra, where are you from and how does that affect your work?
I was born in Singapore and educated in Singapore and Canada.  I live in Singapore, a modern city of high-rise buildings.   Living in Singapore, and visiting global cities, has influenced my abstract cityscapes.
— What motivates you to create?
As an Inspirational Artist, I paint to inspire love and happiness.  I believe art makes our world a happier place.  Every painting is an invitation to embark on an imaginative, unexpected, and fascinating journey.  Artwork is a medium to lift our moods, I always aim to energize the viewers with vibrant colors, interesting textures, plus incorporating a mix of forms and styles, from modern to whimsical.
— What is your core philosophy as an artist?
My goal as an artist is to remain consistent to my core philosophy of inspiring love, happiness and beauty in homes and office spaces.  I consider myself a storyteller who creates paintings that bring viewers happy experiences.
An abstract painting is a conversation starter.  Viewers apply their own experiences, and they tell their own stories when they look at abstract paintings.
— Where do you find inspiration?
I see cosmopolitan cities with their skyscrapers as symbols of civic pride and unity.   Modern cities with their vertical trajectories are testaments of their society's upward aspirations.  Skyscrapers give global cities their own architectural identities.  Through cityscapes, I am inspired to paint our cities towards a more vibrant, happy, and cheerful environment.  It is as if there is always a festival in the city, where merriments are reflected on the glass of the buildings.
I paint mostly abstract cityscapes, and there are no specific skylines in my paintings because skylines are evolving, cities go through dynamic changes as populations grow and progress.
— Tell me about your favorite medium? 
I create abstract paintings that are textured to reflect cities with all their dynamism, energy, and motions.   Acrylics are amazing for they offer the flexibility of mixing acrylic paints with mediums, resulting in light or heavy textures.  I paint very fast to keep the creative process moving with layers upon layers to form varying textures.  This multi-layered, stimulating sensory experience is at the center of my artistic approach.  Through an exploration of different types of acrylics, colors, patterns, forms and an intuitive juxtaposition of varying bold brush strokes, my paintings are lively and full of vitality!
— When you are not painting yourself, what do you like to do?
I enjoy visiting galleries around the world.  By observing the paintings of artists, I discover more about various techniques.  My art skills are constantly evolving just like the cities I paint.  The secret is to experiment with various colors, mediums, and approaches.  Every second is my favorite time to create.  I feel wonderful when I create beauty, this beauty will live on, long after I am gone.
-Does art help you in other areas of your life?
Whenever I dialogue with art lovers on paintings, I feel fantastic to hear what they see, feel, and experience.  My paintings draw me closer to everyone as I get to know them more intimately when they share their feelings and personal stories about a painting.
— How do you define success as an artist?
To create painting is to bring beauty into the world. To me, that is success!  As a creator of beautiful stories, when I paint a colorful cityscape, I am speaking a universal language, often words cannot describe the excitement we feel living in a metropolitan city.
Success is when my paintings draw me closer to people. I am having the most fun when I meet art lovers.
— What is your vision?
My artistic vision is to make our world a more vibrant world!
Petra Leong paints our world a more colorful and vibrant place. Her paintings are collected by many across the globe.  Her paintings are on various book covers.
https://www.facebook.com/PetraLeongArt
Instagram:  PetraLeong https://www.instagram.com/petraleong/?hl=en
Email:         PetraLeong@hotmail.com
Mobile:      +65 96262181