An evening gown… words that excite every woman's imagination and dreams, a sophisticated and unique that emphasizes the individuality of the woman who wears it . Often, it's an evening gown that helps us to turn the most fantastic and unrealistic plans into reality.
The history of a style of dress is always very interesting. The creative innovations in fashion that resulted in today's evening gown were the ideas of Charles Frederick Worth. He came to understand that the English system of pattern was supreme, but was missing French glamour. Worth was the first to dare to abolish crinolines and to allow the natural flow of the threads in fabric to follow the outline of the body and not prevent a natural movement of the garment with the body.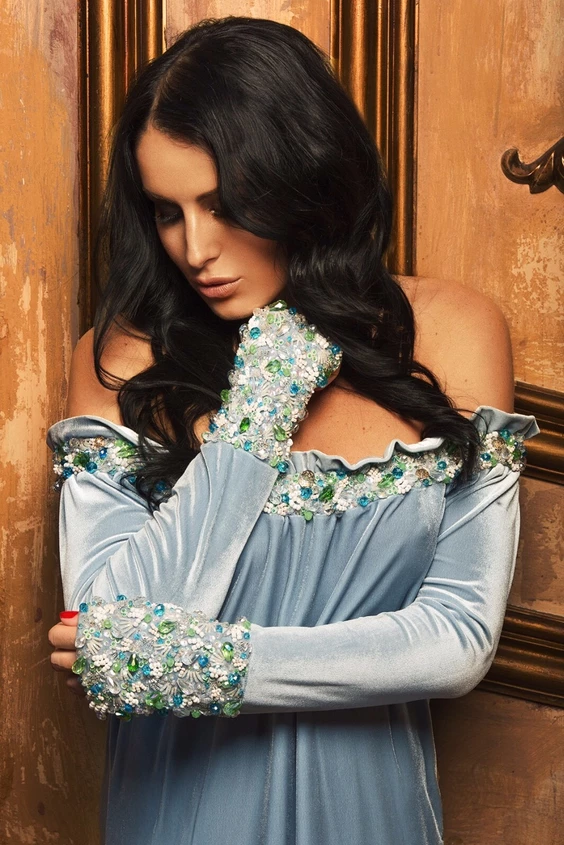 Having gained the pubic's approval for his initial idea, Worth went farther, one step at a time, transforming a dress intended for formal occasions into a work of art. Soon, ladies wanted to wear dresses not "like the empress has," but "like Worth makes." There is one tulle evening gown made by Worth from La Haute Couture that has been saved I. It was made from a white tulle (a fabric introduced by Worth), sewn with silver threads, decorated with little green branches and pink flowers, and fitted with a wide satin belt. To make this dress,
Worth needed 100 meters of material, and for simpler samples 30 meters. Worth reached his goal: he overturned the use of crinolines, even though the most prominent fan of that traditional style was Empress Eugenie, wife of Napoleon III. Worth reached his goal: he overturned the use of crinolines, even though the most prominent fan of that traditional style was Empress Eugenie, wife of Napoleon III. For the empress, Worth created a dress "of royal beauty," as described in «Parisian Life»: «both sophisticated and relaxed, magnificent yet modest: a skirt from a violet taffeta, with white-violet pleats.» After Worth's creation for the empress, taffeta became fashionable and unexpectedly became a rescuer of the silk industry in Lyon, France. Taffeta became a material in high demand and soon was manufactured in large.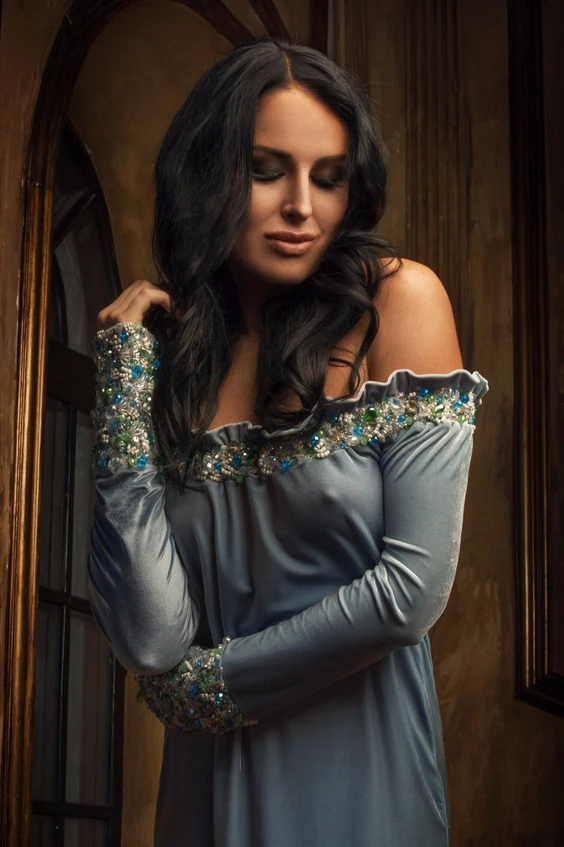 Viewed over several decades, styles for evening dresses changed to reflect broader social trends. In the 21st century we see a mixture of styles with none truly dominating. The most significant characteristic of the dress today is to provide features that emphasize the individuality of a woman. Now, as well as always, charm is a powerful tool for creating a person's image in our modern society. The history of fashion teaches that the personality and talent of the designer are capable of not only adding innovative nuances for a specific fashion season, but sometimes also bringing about a true revolution in the public's taste and perceptions.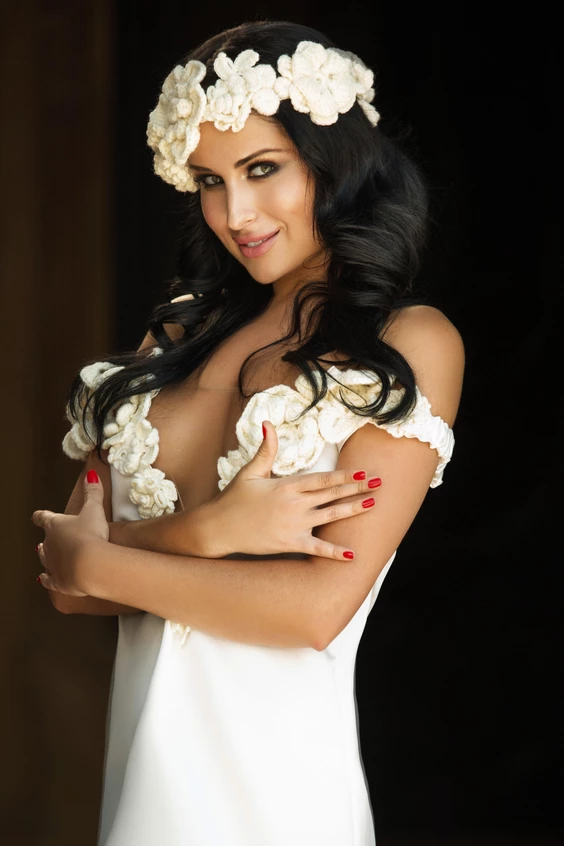 Irina Dulka, a designer of evening dresses and a very successful young woman who's in love with fashion, the California sun, and life in general, is the "cover story"of Gorozhanka's fall issue. Born in the Ukraine, Ms. Dulka is talented in many aspects, but designing dresses that turn any woman into a queen is definitely her calling. Though she moved to Los Angeles very recently, Irina has dramatically risen to new success in her career, bringing her collection of dresses to the "Golden Globe." Awards events for Hollywood's motion picture industry. Her collection has also been presented at Los Angeles's Oscar and Grammy events, where was introduced to many celebrities such as Jennifer Lopez, Heidi Klum, Will Smith and his wife, and others. Some Hollywood producers began to suggest that Irina should dress some of the celebrities in Tinseltown. For a beginning designer this was a huge success and a window to Hollywood's world of a fashion! "Gorozhanka" spoke recently with Ms. Dulka about her career, her passions and lifestyle, and her recent success. For a special occasion, a woman should be presented in a unique and stylish dress made only for her…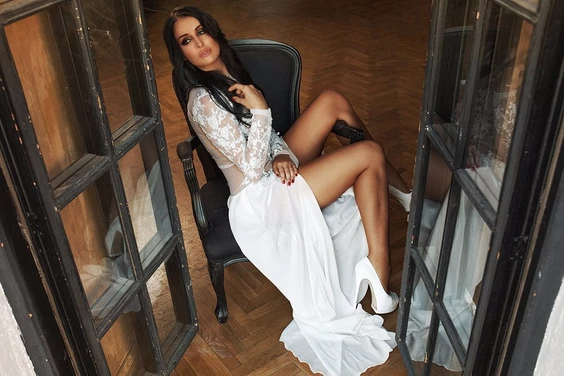 How did you come up with this idea, to create one of a kind custom-made gowns? Each woman is unique, therefore a dress for her specialevent should be one of a kind and made only for her. Especially if it's an evening gown, which means it's for a particular occasion and must make the woman look special. It's not a secret that some women in the public eye who appear at a significant event in a dress of a particular brand are inat risk of meeting another woman wearning exactly the same outfit. Such things happen both during the Festival de Cannes, in France, and on the red carpets of Hollywood. For many celebrities, this causes a great distress, especially considering the fact that all of them make a great effort in advance to impress their audiences with their beauty and uniqueness.
I have decided that I can help many women to avoid this type of discomfort.Please tell us about the accessories that you wear with your evening dresses. In your photos, we often see you with very unusual hair accessories, selected out or even made specifically for each dress.I hope you noticed that I use the Irish style of knitting in the designs of my dresses. Irish knitting is what inspired my idea of creating headpieces that match my dresses. This idea is unique, and I am the only designer in the world that uses this kind of knitting.
Therefore please remember that if you see similar creations and products from it means they're copying my idea. For a winter evening gown, I use flowers that decorate not only the dress's skirt, but also its belt, sleeves, or bodice. As accessories for these dresses, we add flower crowns with the same colors. If I am working with a summer dress, I use other materials for the accessories for example — beads. The beads on the flower crowns harmonize with elements of the dress that are decorated with the same beads. I like to turn each woman into a princess with a crown on her head, and these headpieces create that feeling for her!You look like a professional model…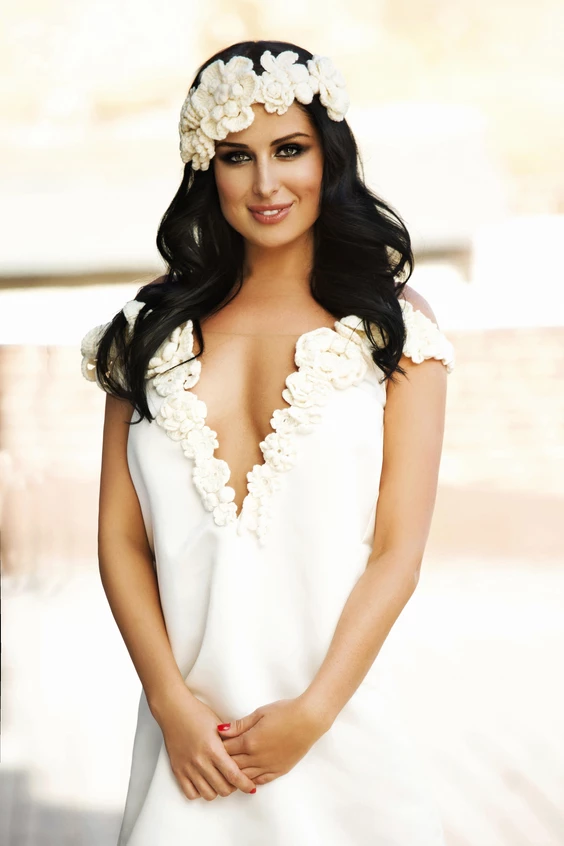 Do you have any experience in that field?Yes, I worked as model since I was seventeen years old. It was my main income when I lived in Ukraine. I began there, and then one step at a time my horizons expanded and I was signing contracts with various foreign magazines.What are your personal secrets of beauty, nutrition, and your way of life?A healthy lifestyle, in my opinion, is an essential part of each woman's life. Exercising, diet, and proper sleep are the secrets to staying young and beautiful. For example, after I wake up, I begin my morning with a healthy breakfast. I love oatmeal with fruit and fresh-squeezed juice. Then it's time for sports: cardio, stretching, and some weights. But everyone should select her own style of exercising, something that fits her personally. Both food and exercise could be different for each person because each of us is unique.Do you have any kind of hobby, or you simply don't have enough time for that?I'm in love with rollerblading and swimming! But most of all, I love the sun, ocean, beach, and palm trees in that environment my body reaches a meditation stage and I can feel my body rejuvenating.
This habit of relaxation is what helps my new ideas to be born. And certainly Southern California, with its benign yet stimulating climate, gives me these sensations of comfort and happiness! But I have one more hobby.: I love to cook and for me it's a huge pleasure! I love to create something exotic out of the most typical foods that I can find in my refrigerator. Since childhood, I loved being in the kitchen and when I was five years, old I was already making dumplings with my mother.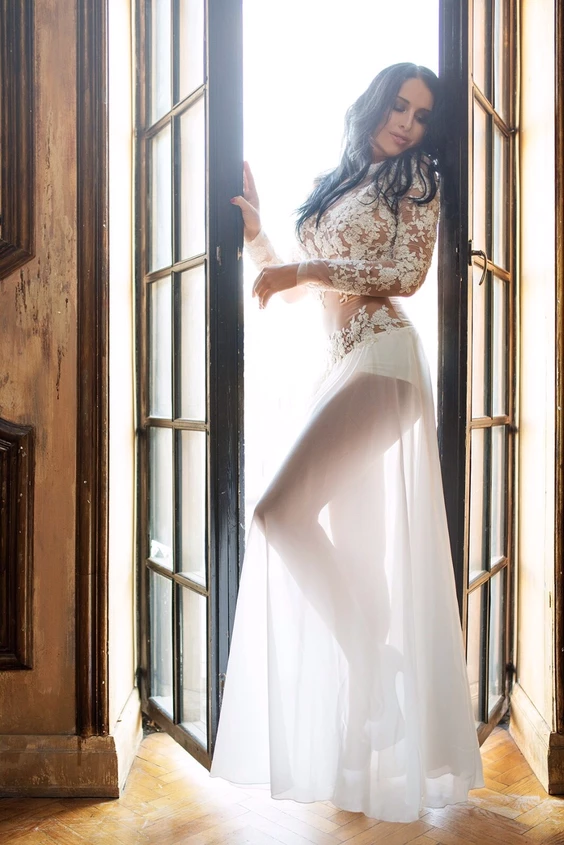 Now I am writing a book of my recipes, which will soon be published.What kind of fashion to you prefer in an everyday life? I know that you have a very busy schedule and you often must fly from one country to another.In everyday life, I really do constantly travel, so I prefer jeans, sneakers, and a plain shirt. Some additions to my outfits are hats, glasses, and different accessories. I really love a casual and free style. However, for any lunch or dinner gathering, I try to look different! It's not always necessary to wear a long dress, but the outfit should still be elegant.
I know that I cannot physically enjoy the meal if I am not dressed in something quite different from my daily casual attire. It's just something that I have in me!Irina, what is your wish for all of the "City Girls"? It's our traditional question.I want to wish for each woman to be herself, to love herself, and not to look for ideals. Each of us is unique and it is necessary to learn how to emphasize and keep this quality. In fact, this is what our men love us for. Get rid of one's insecurities, enjoy life, and the world is going to be a beautiful place!