Cuba is the largest and one of the most beautiful islands in the Caribbean, and besides it's 50's cars and cigars, has some of the best fishing, diving and music/ballet culture in the world! A suggestion after seeing historic Havana and it's UNESCO World Heritage Sites, would be to drive 2-hours to the beach resort of Varadero as it's beaches have been rated the 3rd-most beautiful in the world. Another area to see if you're interested in how the best tobacco in the world is grown, or to hike and bike out in the countryside, is to visit the charming town of Vinales which is about a 2-hour drive West of Havana.
Now that Havana has reopened, as over 90% of the Cuban population has been vaccinated, Cuba's number one industry, tourism, has started up again. One can fly from the US on these carriers now: American Airlines from Miami, Southwest from Tampa, and JetBlue from Ft. Lauderdale. Flight fares should be less after the Holidays, and more airlines will offer other departure options. To comply with various government's Covid re-entry requirements, Havana has set up Tourist Vaccination Centers so that tourists can get their Covid tests back in less than 24-hours before flying home. And lastly, Cuba is the safest country out of the 133 countries this author has traveled through.
What to do and see
Havana's International Jazz Festival is one of the top jazz fests in the world!  It resumes, January 16 — 24, 2022, with some of the global jazz celebs.  The Preservation Hall Jazz Band from New Orleans has played at the Jazz Fest. And Mick Jagger, Katy Perry, Rhianna, Usher, and Jimmy Buffet have all been seen «clubbing» in Cuba… stay tuned.
Speaking of famous: Ernest Hemingway's former home is outside Havana, where you can also check out his fishing boat, Pilar, which he used to win two fishing tournaments off Cuba. That tournament is now named after him, and since 1950 is one of the oldest and most prestigious fishing tournaments in the world.
Hemingway also left his mark on two famous bars that quenched his thirst, and are known for inventing famous drinks: The daiquiri was invented with Hemingway's help at La Floridita, which Hemingway called the best bar in the world. And the bar La Bodeguita del Medio invented the mojito. Hemingway's photo is up at both places.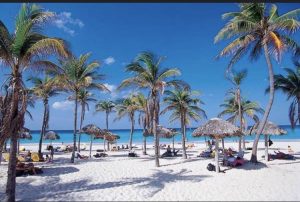 If you'd like to see a spectacular floor show, get a ticket to Tropicana Club's show, set among tropical garden trees in an open-air «stage.» It's been entertaining crowds since 1939. New York's Tropicana was named after the Cuban version.
For more updated information on Cuba, or to arrange a small, private guided tour around Cuba email: TravelWithKirk@gmail.com. Kirk has taken groups to Cuba LEGALLY since 1998, and is touring in 2022.