Recently, a concert by Natalja Karol was held, leaving warm memories for everyone who participated in this important event in our city. A small church in Del Mar united our hearts on the cool evening with love and light and music, the smell of candles and Natash's voice.
Natasha introduced us to her work and inspired me to do this interview.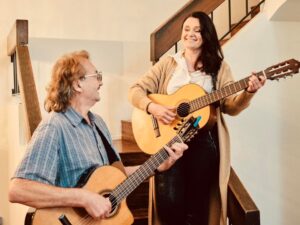 — What did you dream about when you were a child?
As a child, when we wrote essays on the topic "what I want to become," I had two dreams: in the second grade I wrote that I wanted to become a performer/singer and in fifth grade I became more practical and wrote of becoming the chairman of the collective farm" — she says, laughing.
Natasha was born in western Belarus, in the village of Slabodka, the former home of that collective farm… Slabodka is an incredibly picturesque place on the Braslav Lakes, where many vacationers and Belarusian painters came in the summer. They also call Slabodka the place where angels live. In Slabodka we spent a lot of time with our relatives after the move, I always loved to go there, so for me it remains a place of strength and roots and family. We are all rooted in our childhood.
— Where did you grow up?
When I was 2 years old, we moved to Lithuania, where in 1975 the city of nuclear power engineers Snechkus was built, later, after the collapse of the Soviet Union, it was renamed Visaginas, in honor of the lake on which it was built. In our city, until 2009, there was an active nuclear power plant, where, by the way, the recently released series Chernobyl was filmed. I grew up in Visaginas and my parents still live there. There I graduated from high school and music school, where I studied accordion.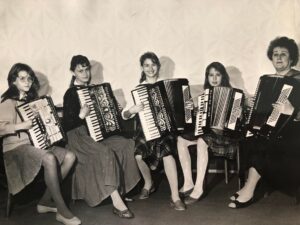 — Tell us about your parents and family, please.
My parents are turning 70 this year and they are already retired, but active. My dad just left his truck driving job last year and now drives locals on a bus a couple of hours a day to maintain his vitality. And my mother worked for almost half a century as a nurse in physical therapy, 2 years ago she retired and became interested in fishing, she just raves about it. I also have a younger brother; he lives in England and works in a body shop.
We have a big family in Latvia, we have relatives in Belarus, Russia, as well as in Poland and America.
Some kind of mysticism surrounded the history of the family in America, none of my relatives had ever seen or communicated with relatives living in America, but I decided that they were good people, and I would definitely meet them. That's what I thought when I was 11 years old and although I clearly remembered the moment the thought entered my mind, I could not imagine how it would happen.
Although there was "perestroika", we still lived in the Soviet Union.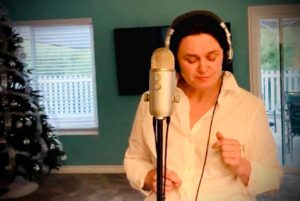 — How did you come to America?
Going to America for me was not a dream typical of many immigrants, it was some kind of inner knowledge. I wanted to find relatives and learn English, but I didn't really know anything about the country, even when I processed the documents in 1998 to go to Philadelphia on a program: Au Pair in America.
I only knew that it was a beautiful autumn in Philadelphia, Shufutinsky ( a well-known Russian pop singer) sang about that and he did not lie — autumn there is really very beautiful. Philadelphia also turned out to be near New York, where my relatives lived and I did meet them, although not immediately, I had to extend my visa and stay in the US for another year. I could improve my English I thought. I never wanted to stay.
This year It will be 25 years since I am in America. I am a very slow learner, I joke sometimes.
I cannot say that I immediately fell in love with America. But she definitely loved me. Although, like many immigrants, we experienced difficulties with documents, we were waiting for a green card for 4 years. It was way too long for the legal immigration route and there was an unbearable longing for relatives and friends, but nevertheless, everything turned out for the best and sometimes miracles happen. Although I did not appreciate it and did not understand it before, therefore I didn't apply for citizenship until 2018, although I was eligible for it in 2011. For the longest time we had 3 different citizenships in our cozy family of 5 which we had acquired by then.
Born in Belarus, with Polish roots, raised in Lithuania, speaking Russian, living in America, married to a Chinese man, I often felt lost and had no sense of nationality or patriotism towards any country. Then I realized that this is a big plus for my self-development, although it is not easy for ordinary life, where communication and connection of people often occurs based on a national identity.
The Bible says our citizenship is in heaven. This verse changed my mind and my perception of myself and my belonging. I realized that I needed to bloom where I was planted. America proved to be a favorable and fertile soil.
Although our move to San Diego in 2011 was very difficult for me, almost like second immigration. But it was here that in 2013 I came to an American Church and from that moment a very intensive period of spiritual development began. Perhaps, from that moment my conscious creative path began.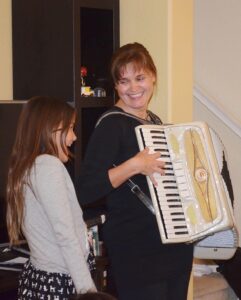 -How did you connect your life with music and when? As a child, I graduated from music school, accordion class, and dad was my biggest fan. He always proudly asked me to play for guests and relatives. However, after graduating from music school and then a year later from high school, I rarely picked up an instrument. Just like many children, and then I left for America. When I finally met my relatives here, they gifted me a family accordion and it was gathering dust at my house for a long time. But then in 2014 I prepared a short musical sketch, for our small group at the church. It was a simple spiritual song "Kumbaya" which is prayerful plea to God "Come by Here", very simple but very powerful song. When I looked at the photos after the event, I realized that music, especially music of spiritual nature, makes me happy and wondered, why don't I do this more often? By that time, of course, I had lost the technique of playing the accordion, but I still had the ability to learn.
I began to play the accordion more often, and also the piano, which was my second musical instrument in music school, but I felt there was not enough knowledge and skill. and then, I wanted someone or something to motivate me. But I realized that it's always like this in life, luck and teachers find those who are prepared and are ready it is so with music, too. So, I started to prepare. I played the piano and accordion for hours and yet I had my old childhood dream of playing the guitar. There was no guitar in my music school back in the day and when I was 20 years old and I tried to learn, I did not have the patience I only matured for the lessons when I turned 40. I was so exhausted emotionally and physically; I begged God to give me a break. The answer to my request came soon. Two weeks later, I broke my foot. My eldest son then studied with Andrey Chuguev and we gave him a new guitar just a couple of weeks earlier, which I inherited from him along with the teacher. For 2 months while I could not walk, I decided to conquer a new instrument and develop some patience. After that I continued to study with Andrey for almost 3 years, he is a teacher from God! I am very grateful to him for his support!
In addition to guitar lessons, God did a lot of work with me before entrusting music and creativity to me. I needed to study the laws of the universe and change my character, work with my emotions and feelings. This is not always a pleasant and often painful process.
Previously, I had no idea about my life's purpose or direction. I didn't know myself very well and didn't know much about the world even though I was not very young anymore.
Everything was fine, according to earthly canons, but there was a deep feeling of dissatisfaction with myself, life, relationships because there was emptiness inside, which often would spill out in the most unpleasant way, because we only can share what we are filled with…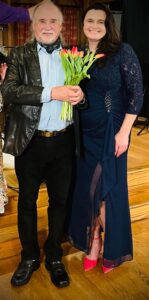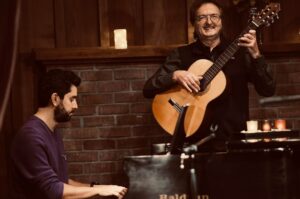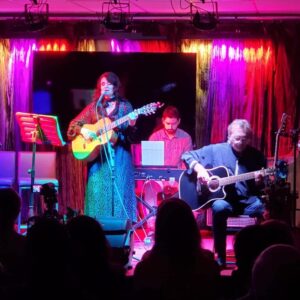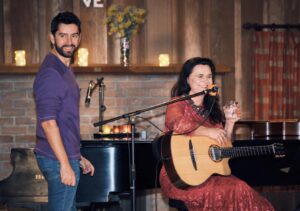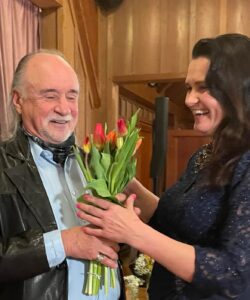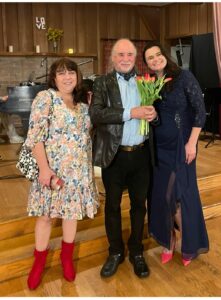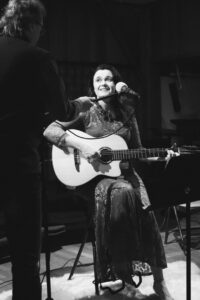 — Does God play an important role in your life?
Having lived in the world for almost half a century, I do not believe in accidents and coincidences. I think that every person has a life plan. We are often looking for something outside of ourselves. But God inscribed all the secrets of the universe into our soul, and if we establish a connection with God and our soul, then incredible things are revealed. Only God can fill the void in the soul. For me, the miracle is in everyday life and in relationship with God. And my creative and life purpose is to convey this miracle, this love to the listener, viewer, and any person with whom my paths intersect for some time.
We get to live in very special times, and we need to direct our strength and our life resources to spiritual development and cultivation of love in the heart, love for ourselves, loved ones, and yes, even enemies. My work is aimed precisely at igniting this flame of love in the heart. Because all our affairs without love are nothing, and we have forgotten how to love. We live in such a hurry.
-What was your life like during the pandemic?
When we were quarantined, I thought to myself: "Finally!" There was a clear understanding that something very important was happening on the spiritual plane. 2020-2021 turned out to be one of the most important years of my life and one of the most interesting, happy, and fruitful in all areas of my being. Despite the quarantine, fate brought me together with interesting people, there were many trips and hikes, I got acquainted with Dao practices and regularly practiced and studied for a year in a Dao course, which gave me incredible instruments and tools. It was then that our trio was formed with Volodya Bedenko and Tatyana Shekunova (although only a duet was planned). It was then that we started writing songs with Olya Reznova, recorded several songs with Timur Sabirov and made the first solo concert and photo exhibit in November of 2021. We also started to discuss our collaboration with Lev Ratner. I am grateful to these people for their talent, professionalism, patience, and friendship, they are real gifts of fate, I love working with them.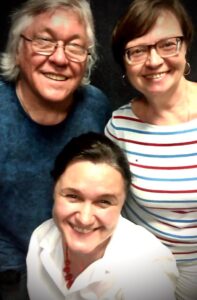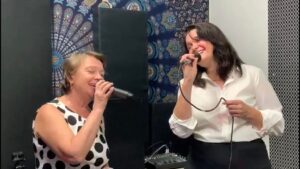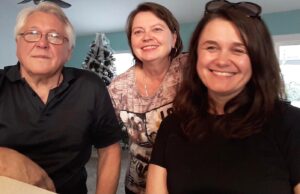 — What did the concert preparation go?
For me, the journey is important in any business, especially in creativity since our whole life is a journey but the concert only lasts 1-2 hours. The process starts way earlier. The second solo program «Flame of Love» was in the works since the summer. For one reason or another, everything was being postponed. On the day they sent me the flyer, there was a small fire at my house, which my dog has set, the whole house was filled with smoke, fortunately we returned on time and nothing terrible happened, but even my unbelieving husband said that someone was protecting us, and I considered it to be a sign. Moses had his burning bush, and I had my burning cutting board, which made me delve into the topic of fire and smoke in spiritual literature. It also served as a hint and help in choosing the repertoire and format of the program. When I came to my senses after the incident, we rehearsed a lot. I recorded all the rehearsals, then re-listened, sometimes I felt sick to my stomach and my head was spinning from ideas, so overwhelming. I have not yet learned to fully trust the process, sometimes I try to control the flow and I suffer from it. It sounds strange, but I listen to space and although it is very important to have a rough plan and focus, because where there is focus there is energy. Still until the last moment I often don't know what will be in the program. For example, this time I was finishing the program the day of the concert at 5 am and swapped the songs and decided not to use the smoke machine, at the recommendation of my husband, as there were a lot of candles in the concert hall. He's my chief
security officer.
I understand that sometimes this kind of dynamic can be difficult for those who work with me on projects, but it seems, we have synergy and often they are the ones who come up with interesting ideas in the process of preparation. Sometimes as a joke, but I get excited about certain ideas, and we develop them. Often, they refine my ideas, especially where my musical knowledge is limited. Although I studied at a music school, I am not strong in musical theory and sometimes I struggle with rhythm, but everyone is tolerant of this, and I want to believe that there is growth and development over time. Generally, I look up to the best, but I compare myself and compete only with myself.
— Music makes us purer and kinder. Would you agree?
Music can vary and does not always carry high vibrations. Recently, I have become very sensitive to sound, and I very selectively listen to music and do not watch TV, do not listen to radio, especially channels where there is a lot of advertisement. My music is not super entertaining, more spiritual and healing. By the way, my friend told me that her toothache went away after the concert. She was going to go to the dentist the next day, had to cancel the visit.
I want my music to awaken love, kindness, and tenderness, to serve as an instrument to make peace with oneself and those around us. This type of music doesn't always appeal to a wide audience but the more I develop as a person and as a musician, the more confident I am that I need to do exactly what I do. Just do it and trust the process.
My programs are not just about music, it is important for me that everything is visually aesthetic, tasty and that it is a real celebration, so after the concert we traditionally have a cake and champagne. This year the cake was especially beautiful and tastefully presented by Irina Soul.
— What are your plans for the future?
Many plans are encoded in the name of the company Sanphia H.E.A.R.T. Living heartful life, healthy life, not only physically, but also spiritually, and emotionally, creating different forms of art. I will be organizing events, traveling with my family and on my own. As for music in the near future I plan a concert in the Russian-speaking community for the elderly and performances in honor of the friend's birthday and a housewarming party. I am also currently taking a course in voice sound healing; I don't know how things will develop yet. But I want to continue to work with the body and energy and continue to develop my own authentic presence and voice. Personally, I want to delve into the practice with sadhu board, also have a unique 4-week Dao course and a retreat coming up in Turkey in August-September. As you can see, there are many plans in my heart, but I have decided a while ago that I want God's purpose to prevail in my life, so I make plans, but I remain flexible and adjust plans accordingly.
Thank you for coming to the concert and for the interview! I wish you and the readers of «Gorozhanka" success, health, and blessings!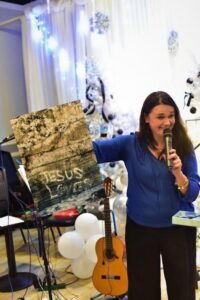 Yana Sanakina
English editing by Edward Goold