By Robin Miller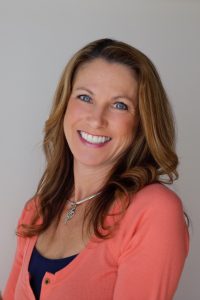 Sublimely moist, flavorful chicken, sheathed in a crispy skin. That's pretty much culinary nirvana, am I right? If roasting the perfect bird is on your "epicurean bucket list", look no further.
It doesn't matter if this is your first roast chicken, or your 100th, I can guarantee an easy, foolproof, sensational meal. Or, perhaps I should say, seriously easy, undeniably foolproof, and totally sensational.
And let's talk leftovers! Few things are better than cooked chicken, resting in your fridge, waiting to be repurposed. Like… tossed with mayo for chicken salad sandwiches; or shredded and slathered with BBQ sauce for pulled chicken sliders; or nestled into burritos and wraps; or diced over colorful veggie and grain salads; or simmered with savory broth and noodles for a cozy soup.
First, some essential tips for roasting the perfect chicken.
Rinse the chicken under cold water, inside and out, then pat dry.
Season the cavity of the chicken so flavor penetrates the meat from both sides. In this recipe, we add thyme, lemon, garlic, salt, and pepper to produce juicy, flavorful meat.
For crispy skin, brush the outside of the bird with butter. Butter smokes in a hot oven, but it produces an unrivaled, golden-crisp skin.
Truss the chicken by bringing the legs forward, crossing them, and tying them together. This ensures moist legs.
Tuck the wings under the body to ensure moist wings.
Roast the chicken on aromatic vegetables for added flavor and aroma.
Roast until juices run clear when pierced between the leg and thigh. Double-check by inserting an instant-read thermometer deep into the breast, and then the thigh. Breast temperature should read 180 degrees; thigh 190 degrees.
Tent the finished chicken under foil and let it rest for 20 minutes before slicing; this redistributes juices and keeps meat moist.
Once you've mastered this simple version, jazz things up. For example, arrange additional vegetables around the chicken for the last 30 minutes of cooking (first, cube or cut into wedges, toss in olive oil, season with salt and pepper). Great choices include Brussels sprouts, parsnips, sweet potatoes, butternut squash, red potatoes, and wild mushrooms.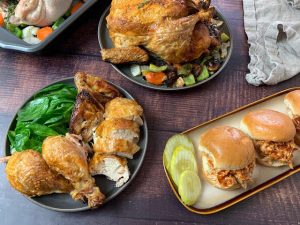 Or top the chicken with flavorful ingredients before serving. Great choices include basil pesto, mango chutney, olive tapenade, salsa verde, or balsamic glaze.
Perfect Roast Chicken
Serves 4-6
INGREDIENTS
1 (5-6 pound) chicken
Salt and freshly ground black pepper
1 bunch fresh thyme
1 lemon, halved crosswise
1 head garlic, halved crosswise
1 onion, cut into 2-inch pieces
2 carrots, peeled and cut into 2-inch pieces
1 green bell pepper, seeded and cut into 2-inch pieces
1 tablespoon olive oil
2 tablespoons butter, melted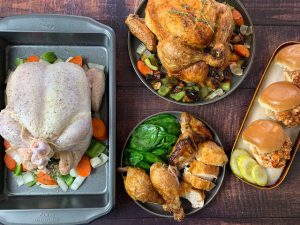 INSTRUCTIONS
Preheat the oven to 425 degrees.
Remove giblets from the chicken cavity. If necessary, remove any pin feathers (anything resembling a "pin" or porcupine quill). Rinse the chicken inside and out and pat dry. Season the cavity with salt and pepper and stuff with the thyme, lemon and garlic. Tie the legs together with kitchen string and tuck the wing tips under the body.
Place the onions, carrots, and bell pepper in the bottom of a roasting pan. Toss the vegetables with the olive oil and season with salt and pepper. Arrange the vegetables in the center of the pan and arrange the chicken on top (tuck all veggies under the chicken; exposed pieces may burn during cooking). Brush the chicken with the butter and season with salt and pepper.
Roast for 1 1/2 hours, or until juices run clear when pierced between the leg and thigh. Transfer the chicken and vegetables to a platter and tent with foil for 20 minutes.
Slice the chicken onto the platter and serve.
 Happy Holidays!