I would like to introduce to you MC of Miss&Mrs Eastern Europe America 2020, Mrs Russian California famous Richard Roy Rodstrom.
— How did you get your start in this roller coaster entertainment business?
— I got my start in Television as a stunt double for Sonny Bono …doing basketball stunts, on the fifth season premiere of 'Fantasy Island.
That opportunity made me change my educational direction to the performing arts, after that role.
I attended San Diego State University, performing at the Don Powell Theatre in "The Indictment", directed by the famous TV, Film and Stage Producer: Paul Gregory; and I had other acting opportunities in other productions at that time as well.
— Where did your big break come through for you?
— During that time, I met commercial photographer, Greg Smith, where I became Mr. Smith's studio representative and later studio manager. Together, we produced several popular exotic car posters and calendars, featuring models from Los Angeles. Then I started modeling in Mr. Smith's projects.
I was signed with one agent but wanted more representation.
In a short period of time, I luckily was signed with five talent agencies in San Diego, Orange County, Palm Springs, Palos Verdes and Los Angeles for opportunities in print, ramp, commercial, TV and Film.
— It sounds like a lot of great connections! How did you put it all together?
— Well I received my Screen Actors Guild (SAG)/American Federation of Television and Radio Artists (AFTRA) card in Hollywood. Then I continued to study TV Commercial and Film Acting focusing on the Sanford Meisner Technique, for over two years, auditioning for soap operas in Hollywood, including "Knots Landing". I was just smidgens away from being cast in a lead role on "General Hospital", replacing actor/rock star Rick Springfield after he left the series. The lead role also consisted of a thirteen-city tour, performing with a band. We had our own own "garage band", at the time, called: "KAOS". Our drummer, Kris Lettow, and myself formed the band and co-wrote the song: "La Mesa Growin' Up", about their hometown, which made the air waves. The talent scouts and management really helped me became an actor in Southern California; seen in local and national magazine campaigns, representing the face of car dealerships and clothiers, on billboard's, local and cable television commercials, product packaging, fashion shows and bridal bazaars.
— What are some of the more exciting assignments you have had through your career?
— My acting credits include the TV series' "Rescue 911" and "America's Most Wanted".
Film: "A Time of Destiny" with Timothy Hutton and "Attack of the Killer Tomatoes".
Music Video: "Wipe Out" with the Beach Boys (Lorimar Productions). I have also acted in Industrial Films for Honda and other corporations. For Fashion Credits I have worked for: Jack in the Box, U.S. Navy, JC Penny, Toshiba, Red Lion Hotels and many great companies.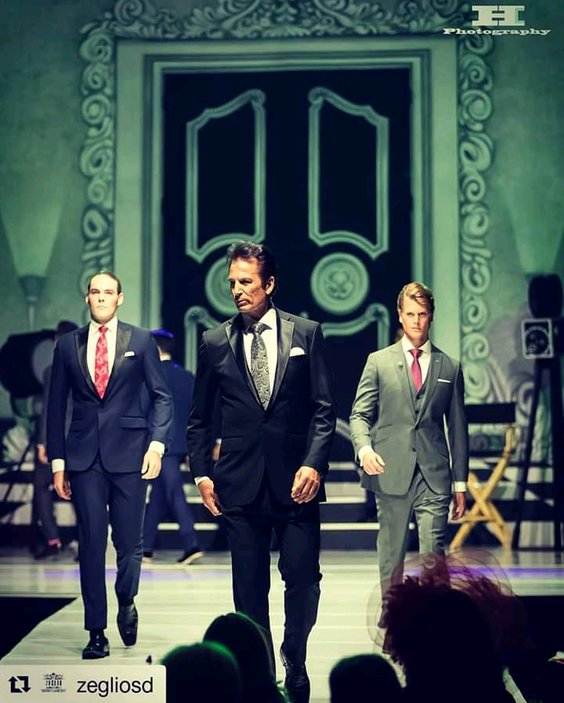 — How did you find time for a social life with all this wonderful career experiences?
— I decided to have a family and put my career on hold. I got married and have two beautiful children and received my [BBA (Marketing) — Cum Laude] at National University.
I divorced in 2013. When my children were older, I continued my career in acting and modeling. In 2017, my long-time friend, Leonard Simpson, Celebrity TV Host and Gala Event Producer asked me, on the red carpet, at the La Jolla International Fashion Film Festival, would I like to be in his next fashion show. I excitedly agreed and have been in all of Mr. Simpson's popular charity and gala events.
— Wow, nice re-connections! So, what's next since you are back in the game?
— While volunteering at a charity event, I met director and videographer, Howell Kickliter. Since then I have performed in Mr. Kickliter's award nominated short film: "Love in a Lifetime". In the first quarter of 2020, I have a lead role in Mr. Kickliter's short film: "Breakfast at the Inn". In post-production is the "Devil's Highway", I am featured in, another Kickliter project.
Also, I have been cast in an important role in a movie with a major studio, to start filming in January 2020. I will also be in a fashion segment for a local cable TV program, along with two more short films in the early stages of production. During this time, I will be forming a band and writing original songs for airplay and film scores.
— How did you get involved with the Gorozhanka magazine's (City Girl) GALA events?
— I have had the great privilege to work with publisher and producer, Yana Sanakina.
First, I escorted beauty pageant contestants to the stage in her 2018 and 2019 Miss Russian San Diego Beauty Pageants. Then, I have had the honor to be the Co-Master of Ceremonies for her wonderful Mrs. Russian California 2020 Beauty Pageant.
I was also Co-MC of the Miss Europe Continental California 2019 Beauty Pageant, in Beverly Hills, with Celebrity Fashionista, Sonya Berg.
Rick is constantly pursuing his many passions, with goals of becoming the Master of Ceremonies of the Miss USA and/or Miss Universe Beauty Pageants.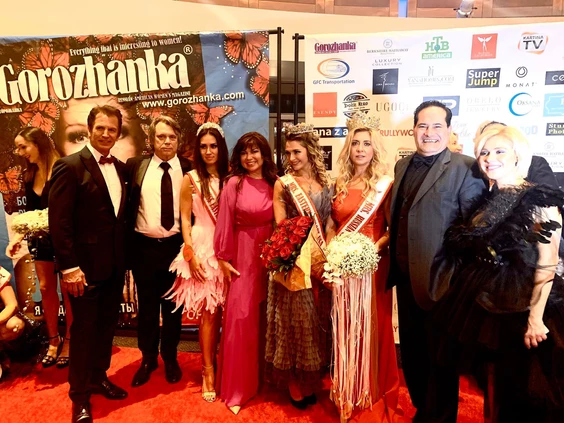 Also aiming to be the next: James Bond, replacing Daniel Craig's replacement. Here at Gorozhanka we wish him the best.
---
We know "No One Comes Closer to James Bond 007 than Rick Rodstrom! 41st Haute with Heart Fashion Show and Luncheon : Born to Sparkle to benefit St. Madeleine Sophie's Center on Sat Aug 4 2018 at Hilton San Diego Bayfront.
---
Want the latest on style and culture?
Sign up for our newsletter.
By signing up, I agree to Gorozhanka Russian American Women's Magazine' Terms of Use (including the dispute resolution procedures); my information will be used as described in the Privacy Notice.
---
Watch Next
Start Flying
https://www.gorozhanka.com/wp-content/uploads/2021/10/whatsapp-video-2021-09-29-at-22.19.13.mp4